28th June: AWS investor Day for Latino Founders Cohort 2023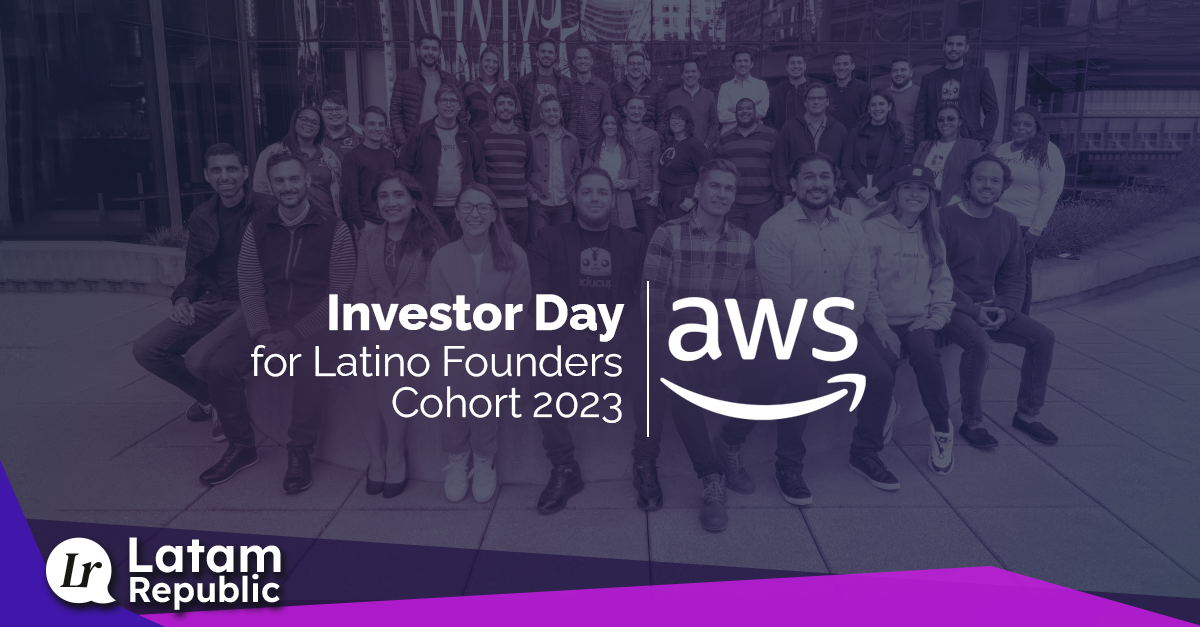 The AWS Impact Accelerator for Latino Founders is a program that showcases and supports innovative startups led by Latino entrepreneurs. With a commitment to fostering diversity and providing equitable opportunities, AWS offers funding, training, mentorship, and resources to these underrepresented founders. The cohort consists of 20 companies
Amazon Web Services, AWS, takes great pride in presenting the Investor Day, which showcases the startups from the AWS Impact Accelerator for Latino Founders cohort. This event brings together 20 groundbreaking companies led by Latino entrepreneurs who have been meticulously chosen from a vast pool of applicants across the United States. With the aim of providing equitable opportunities, the AWS Impact Accelerator, backed by a $30 million fund, offers underrepresented founders, including Black, Latino, women, and LGBTQIA+ individuals, access to training, mentorship, tools, and resources. Over the course of eight weeks, these startups will accelerate their growth by collaborating with AWS technology experts, investors, and partners. The culminating event will be held on Wednesday, June 28, 2023, at the AWS Startup Loft in New York City.

The primary objective of the AWS Impact Accelerator is to underscore the viability and ingenuity of Latino-led startups. Howard Wright, Vice President and Global Head of Startups at AWS, emphasizes the program's intent to encourage the venture capital community to extend greater support to these founders. By granting them access to capital, experts, and the cutting-edge AWS tech stack, AWS seeks to empower these companies to propel their growth and achieve remarkable success.

The AWS Impact Accelerator Latino Founders Cohort features a diverse range of startups based in the United States but catering to customers in Latin America. Almost half of the selected companies operate within the region, spanning Argentina, Brazil, Colombia, Mexico, Venezuela, and Puerto Rico. This expanded scope of the program enables it to make a positive impact on a larger scale, fostering entrepreneurship and innovation throughout Latin America.


Highlighted Latino-led Startups:

Cogniflow (Colombia | US HQ: New York)
Industry: Analytics, AI
Founder: Marcelo Martinez

Deskfy (Brazil | US HQ: Delaware)
Industry: Retail
Founder: Victor Dellorto Toscano

Fielder (Mexico | US HQ: Delaware)
Industry: Marketplace
Founders: Carolina Nanni & Jorge Villatoro

Kigüi (Mexico)
Industry: Food/Beverage, Sustainability
Founding team: Mauricio Kremer, Maximiliano Dicranian, Gonzalo Castro Peña

Kuentro (Venezuela)
Industry: Sourcing/Recruiting
Founding team: Julio Pazos, Manuel Romero, Deivis Millan, and Hector Tamayo

Outtrip (Argentina | US HQ: Delaware)
Industry: Travel/Tourism
Founders: Liliana Barck & Gonzalo Rico

Panda Salud (Mexico)
Industry: Healthcare
Founders: Angela Cois & Guillermo Mogollán


Tienditapp (Mexico)
Industry: Freight
Founder: Luis Andrés Hernández


TuCuota (Argentina)
Industry: Financial Services
Founding team: Juan Pablo del Peral, Fernando del Peral, Santiago del Peral, and Federico Isas


The AWS Impact Accelerator for Latino Founders exemplifies AWS's unwavering dedication to empowering underrepresented entrepreneurs and nurturing diversity within the startup ecosystem. By providing access to funding, training, mentorship, and valuable resources, AWS plays a pivotal role in fostering the growth and success of these dynamic Latino-led startups. The cohort's diverse range of industries and groundbreaking solutions not only highlights the immense potential of Latin American entrepreneurship but also showcases the region's innovation and creativity. Through this visionary program, AWS is driving increased investment in Latino-led ventures and inspiring a new generation of entrepreneurs within the vibrant startup landscape.